---

FORD FAIRLANE
TOWN SEDAN
1956


Cette voiture a été fabriquée à l'usine de Ford du Canada à Oakville en 1956. Elle proviendrait de la région de Toronto. Elle fut la propriété d'un M. Stone de Scarborough de 1983 à 1999. La peinture et le chrome que vous voyez date de 1983, alors que les pneus furent installés en 1991.

This car has been built at Ford Canada's Oakville plant in 1956. It came from the Toronto region. This vehicle was owned by a Scarborough gentleman named Mr. Stone, from 1983 to 1999. The paint and chrome you see were done in 1983, while the tires were installed in 1991.
Ce moteur rebâti s'avère un 292 pouces cubes, soit la version "Thunderbird V8", option populaire sur les Fairlane de l'époque. Il est jumelé à une transmission à 2 rapports "Ford-O-Matic", qui se débrouille très bien en ville comme sur la route. Il faut connaître le truc de démarrage de cette voiture!
This rebuilt engine has a 292 cubic inch displacement, which was the "Thunderbird V8", a popular option in Fairlanes during that era. It is combined with a 2-speed "Ford-O-Matic" transmission, which performs as well in city or highway driving. One has to know this car's starting technique!
1956 marque une première double chez Ford : première année des ceintures de sécurité (à l'avant seulement) et première année de l'alimentation en 12 volts. L'intérieur de cette voiture est original (plafond, sièges, tapis, portières) et bien conservé. Le véhicule est doté d'une option rare : un tableau de bord coussiné.

1956 marked a double first for Ford : first year for seat belts (front seat only) and first year for the 12-volt system. This car's interior is original (headliner, seats, carpets, door skins) and well preserved. This vehicle is equipped with a rare option : a padded dash.
Ce modèle ressemble à son cousin, le Meteor Rideau. Le grillage avant les distingue clairement. 1956 marquait la seconde année de production de la Thunderbird de la Fairlane. Fairlane s'avère le nom du ranch de la famille Ford. Ce modèle a grandement évolué au cours de sa vie qui se termina en 1969 (pour devenir la Torino).
This model resembles to its cousin, the Meteor Rideau. The front grill clearly distinguishes one from the other. 1956 marked the Thunderbird's and the Fairlane's second production year. Fairlane was the Ford family's ranch name. This model has greatly evolved over its life span which ended in 1969 (to become the Torino).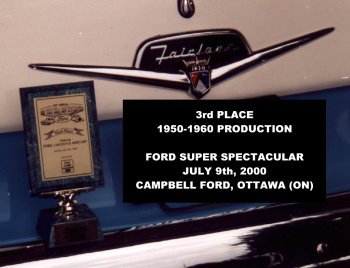 Fiche technique / Technical Information

Moteur / Motor
V-8 292 Pouces cubes / Cubic Inches
Moteur Thunderbird, édition canadienne
Thunderbird Engine, canadian edition

Rebâti / Rebuilt

Boîte-pont / Transmission
Automatique, 2 vitesses / Automatic, 2 speeds

Ford-O-Matic

Intérieur / Interior
Original; bleu, tissu et vinyle; tableau de bord coussiné (option rare) / Original; blue, cloth and vinyl; padded dash (rare option)

Origine du véhicule / Vehicle's Origin
Scarborough, Ontario

Acheté chez C.W.M. Antiques, Classics and Rods (Winchester, ON) en juillet 2000. Vendu en janvier 2002. / Bought at C.W.M. Antiques, Classics and Rods (Winchester, ON) in July 2000. Sold in January 2002.
Sylmar Auto Ville est un nom d'entreprise enregistré dans la province de l'Ontario. Toute autre marque de commerce est la propriété de son propriétaire. / Sylmar Auto Ville is a business name registered in the province of Ontario. All other trademarks are the property of their respective owner.