---

DODGE D-100
1960
FERNAND VILLENEUVE
SYLMAR AUTO VILLE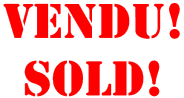 Notre premier véhicule fut cette camionette Dodge D-100 1960, achetée en 1992. Ce véhicule avait été acquis en 1960 chez Lefebvre Motor Sales par M. Donat Mainville. Après avoir changé de mains quelques fois, elle fut la propriété de G.G. Villeneuve (aucun liens) de Hawkesbury jusqu'à ce qu'elle soit échangée chez un concessionaire.
Our first vehicle was this 1960 Dodge D-100 pick-up bought in 1992. This vehicle was originally bought by Mr. Donat Mainville at Lefebvre Motor Sales. After changing hands a few times, this truck became the property of G.G.Villeneuve (no relations) of Hawkesbury until he traded it in at a local dealership.
Voici une photo du moteur tel qu'il était quand nous avons acheté le véhicule. C'est un moteur 251 «Flat Head» très puissant. Ce camion pouvait tirer de lourdes charges. Cependant, il n'a pas été conçu pour la vitesse.
This is a photo of the engine when we first bought the vehicle. What you see is a very powerful 251 Flat Head engine. This truck could pull heavy loads. However, it wasn't built for speed.
Ce véhicule a beaucoup servi à la promotion de Sylmar Média. Nous l'avons aussi utilisé lors de parades en partanariat avec un conseil scolaire et des commerces de la région.
This vehicle was often used for promotion by Sylmar Média. We've used it for parades in partnership with a school board and local businesses.
Fiche technique / Technical Information

Moteur / Motor
251 «Flat Head» 6 Cyl.

Rebâti / Rebuilt

Boîte-pont / Transmission
Manuelle, 3 vitesses à colonne / Manual, 3 speeds on the tree

Intérieur / Interior
Rouge, gris et blanc / Red, grey, and white

Origine du véhicule / Vehicle's Origin
Rockland, Ontario

Acheté chez Hawkesbury Chrysler en décembre 1992. Échangé chez C.W.M. Antiques, Classics and Rods (Winchester, ON) en septembre 1999 / Bought at Hawkesbury Chrylser in December 1992. Traded in at C.W.M. Anitiques, Classics and Rods (Winchester, ON) in September 1999.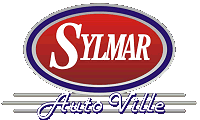 Sylmar Auto Ville est un nom d'entreprise enregistré dans la province de l'Ontario. Toute autre marque de commerce est la propriété de son propriétaire. / Sylmar Auto Ville is a business name registered in the province of Ontario. All other trademarks are the property of their respective owner.